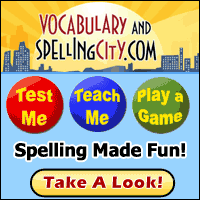 Go to "find a list" and type in Susan Pratt to access our lists!
Spelling-
Every week your child will get a new spelling list.  They have one list to take home and one list to keep in school.  I will also post a copy online.
Every day in class they have a spelling activity to complete and they should use their list to make sure they spell them correctly. 

Sometimes they have to write their words in alphabetical order, some days 3 times each, colorful words (they write each word in a different color), Picture words (they can draw a picture of anything and put their words anywhere in the picture), we do word searches, make words with Wikki Stix or Play-Doh, choo choo words are words that are connected like a train, each word is a different color but they make one long "train" with them, etc… Students are given instructions to complete the activity and the activities will be repeated throughout the year so they will know what they are.  If you see this in your child's missing work column, they can complete this at home- they will have a list. 
How the lists are composed:
Every week they will have 5 core words that come from Sitton Spelling. The core words come from a list of words that are most frequently used in writing.  Their spelling test is in the form of a cloze story and the core words will be in the story.  (This helps them practice words in context such as would or wood, their, there, they're) They will also have other words in the story that may be past spelling words or ones they will see in the future.  Once a word is given on the student's list the student is responsible for spelling it correctly all year long and it will count toward their words.  If it has not been given yet, it will count as a bonus point.  They will be able to earn a lot of bonus points in the beginning but the bonus words will decrease as the year goes on and they learn how to spell more words.   If you notice 25/20 on a spelling test, it means your child earned bonus points.  http://www.sjsd.k12.mo.us/Schools/Skaith/pages/sitton_spelling/index.html
The second section of their list is words that follow a rule or spelling pattern and the last 5 words are usually related to content we are or will be studying.  I also give a bonus question related to content, (on this question ONLY spelling does not count) I just like to see what they remember at the end of the week. (Wrong answers will not be counted against them.) 
Student's spelling grade will be based on practice as well as tests.  Students should use their list when practicing to make sure they spell them correctly. 
Tests will take place on the last day of the week. 
Ms. Pratt